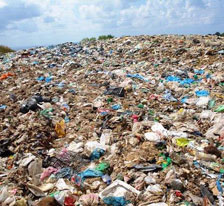 The disposal of waste is an issue of environmental, social and economical interest for all developing countries. In Europe, an average of 3.5 tons of waste per year are generated,
resulting mainly from domestic, commercial, industrial, and agricultural activities as well as from the production of energy. The treatment of waste, which includes its formation, collection, transport and disposal, has important implications both at the environmental level and at that of public health. The volume of waste produced in Europe is increasing, so that it is important to ensure that the treatment of the waste causes as little damage as possible to humans and to the environment.
Knowledge of the potential effects on health of populations exposed to different types of waste treatment is still limited and often inconclusive because of the wide range of pollutants, the different ways of exposure to them and because of the potentially cumulative and synergistic effects.
Since 2005, the DEP is involved, at European, national and regional levels, in the assessment of the effects of the exposure to the treatment of waste on health. The purpose of this research is to provide experts, administrators, and the public with up-to-date, technically correct information on the health implications resulting from the collection, processing and disposal of waste in Lazio.
Activities