Department of Epidemiology of theRegional Health Service - Lazio

The Department of Epidemiology (DEP) in Rome is a 30 year old institution within the National Health Service of the Lazio Region. The mission of the Department is to perform high quality epidemiological research in the field of environmental epidemiology, comparative effectiveness and outcome research. The aim is to provide the best available evidence to inform public health policies to reduce effects of environmental exposure and to improve health care quality.
DepLazio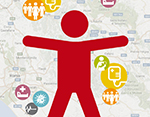 Il 14 febbraio 2019 presso la Sala Tirreno della Regione Lazio, verrà presentato il portale STATO DI SALUTE DELLA POPOLAZIONE DELLA REGIONE LAZIO.
Read more...
Quali sono le maggiori sfide per la sorveglianza post-marketing dei medicinali biologici nell'era dei biosimilari?

Read more...

Dal 6 al 9 Aprile 2019 si terrà il Midyear Meeting della International Society for Pharmacoepidemiology (ISPE) a Roma.

Read more...

Il Dipartimento di Epidemiologia lancia un nuovo progetto per lo studio della sicurezza dei nuovi e vecchi trattamenti farmacologici utilizzati nelle donne affette da psoriasi e la valutazione dell'impatto sulla salute di madre e bambino (Psoriasis in the Mother with Treatments and Health Endpoints Risk).

Read more...

Il percorso di cura del paziente in dialisi: criticità e strumenti per la valutazione.

l workshop è rivolto al personale sanitario che opera nei Centri Dialisi del Lazio ed ai professionisti sanitari dedicati alla gestione e trattamento dei pazienti con malattia renale cronica nelle diverse fasi.

Read more...
<<

Start

<

Prev

1

2 Next > End >>


Page 1 of 2